Fake websites are versions of real websites that look almost identical to legitimate cryptocurrency exchanges.
These websites trick people into investing or trading on their platform by offering attractive deals such as free cryptocurrency, low exchange fees, good prices, or even gifts.
Some of the more advanced scammers will even buy ads to promote their fake website, making it appear at the top of search results pages.
Security tip
To protect yourself from fake Swyftx sites, always check you're using the official Swyftx website. Type our full URL into the address bar rather than clicking on the first search result or bookmark the
official Swyftx websites
.
Recognise fake Swyftx websites and links
Things to watch out for:
Does the website address have different letters or symbols but look like our official website? For example, Svvyftx or www-swyftx.com.
Is the website loading slower than usual?
Does the sign-in page look different?
Are other links on the sign-in page not working?
If you use a search engine to find our site, double-check to confirm that the first results are genuine. Scammers may buy ads to promote fake websites, which appear first in search results.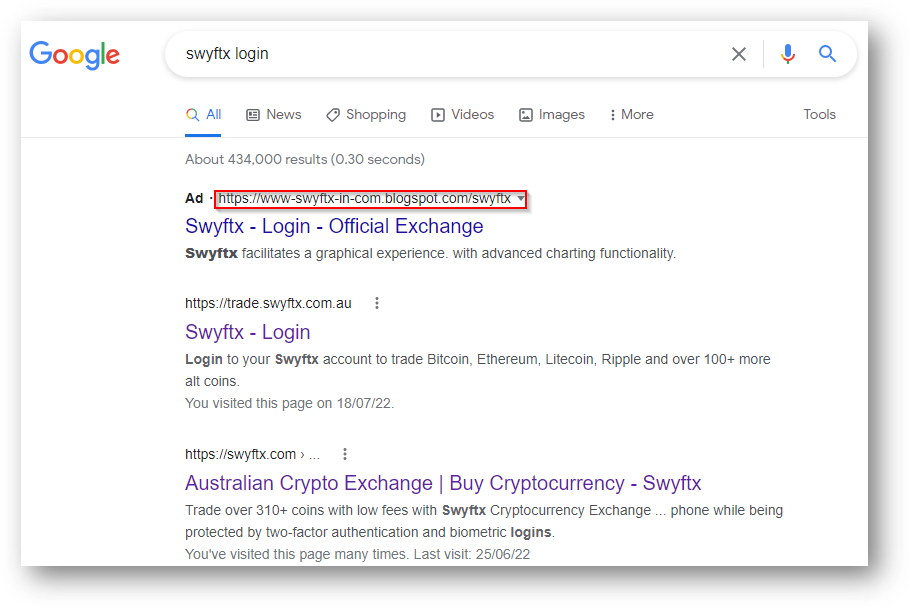 Official Swyftx sites
These are our official sites:
If you're ever concerned if you're on the genuine Swyftx website or not, please don't hesitate to get in touch with us via live chat or email us at hello@swyftx.com.au.
Report fake Swyftx websites and links
Take a screenshot of the suspicious website, if you can, ensuring the URL/web address is visible. Take care not to open the link.
Make a note of the differences compared to our website.
Report it to us at security@swyftx.com.au and tell us how you came across the fake website.
We will then investigate and get the site taken down if possible and necessary. We also use the information to help protect and educate our customers in the future.